Cyberlab reviews products based solely on our testing criteria and not by payments from vendors. We don't accept paid reviews, paid articles or payment for higher placement. If you buy through our links we may earn a commission which helps support our work. Review Ethics
Are you bothered by how slowly your Windows 10 computer works? Does it seem like it's filled with too much stuff you don't need? Don't worry, we have a solution that's easy to use. There are tools out there that won't cost you a thing, and they can help your computer work more smoothly and get rid of unwanted programs.
These PC cleaning tools are really user-friendly. Even if you're not a tech expert, you can use these tools to help your computer work better. These tools take care of the hard work for you, tidying up your system, getting rid of unnecessary files, and helping your computer run more smoothly and quickly.
In this article, we're going to go over the best free PC cleaning tools for Windows 10. We'll give you all the information you need about these tools, so you can choose the best one for you. You'll be able to make an informed decision and pick the tool that will make your computer work faster and better. So, let's get started!
What Makes a Good PC Cleaner?
A top-notch PC cleaner doesn't just offer a basic cleaning function, it's a comprehensive toolkit designed for peak performance. It's user-friendly, meaning it's easy to navigate for both tech experts and beginners. It digs deep into your computer's system, smartly differentiates between necessary and unnecessary files, and removes clutter without affecting essential files or overall functionality.
Beyond simple cleaning, an exceptional PC cleaner enhances your system's performance and safeguards your digital security. It optimizes processing power, boosts speed, and helps your computer run smoothly. It also removes potentially exploitable data, clears your browser cache, and deletes cookies, acting as a frontline defense in a world of ever-increasing cybersecurity threats.
When it comes to keeping your computer in optimal shape, employing robust maintenance softwares for PC is crucial. These utilities encompass a wide range of functions, from cleaning up unnecessary files and optimizing your system's performance, to safeguarding your digital privacy and security. Whether you're seeking a comprehensive clean-up or focused protection, there's a variety of PC maintenance software available to meet your specific needs and enhance your computing experience.
Why is Windows System Cleaning Important?
Windows 10, like any other operating system, accumulates digital clutter over time. Temporary files, software caches, and browser data can quickly fill your hard drive. Additionally, registry issues and leftover data from uninstalled software can add to the clutter.
These unnecessary files take up disk space and cause potential security risks. Cybercriminals can potentially exploit these leftover files to gain access to your system. Moreover, they can significantly hamper system performance, resulting in a slower response time and diminished user experience. So, in such situations, Window clean-up becomes essential.
Top 6 Free PC Cleaners for Windows 10/11
Now you know why it is essential to have the Windows 10 system cleaned. Here is a list of the best free PC cleaners for Windows 10. These powerful tools will help you clean up your system, remove unnecessary files, and improve overall performance, all at no cost.
1. SpyZooka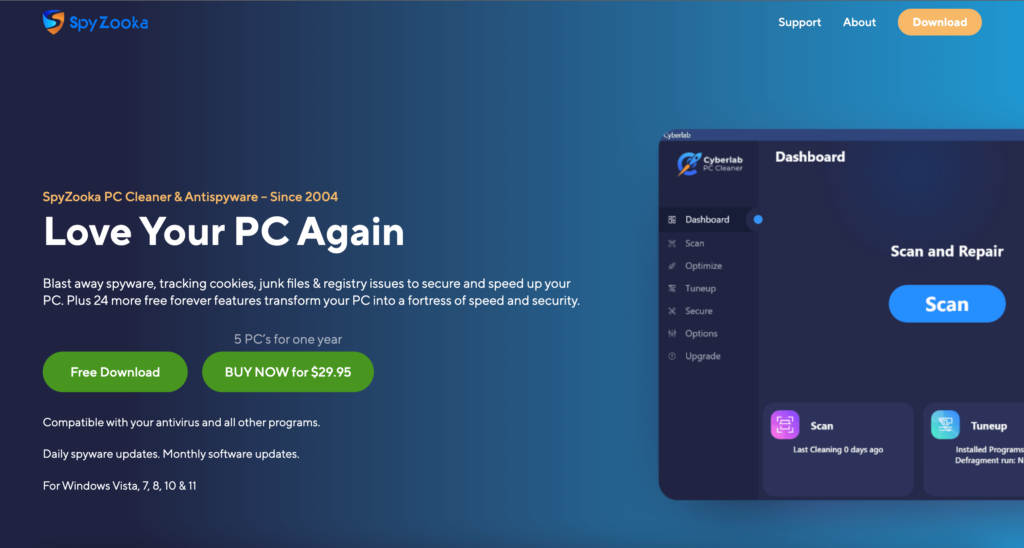 SpyZooka emerges as a superior solution in the crowded arena of PC optimization tools. Its user-friendly interface combined with a comprehensive array of features makes it a versatile option that accommodates both the tech-savvy and those just starting their digital journey.
Key Features:
Registry Cleaner: This feature scours your system's registry, identifies errors or redundancies, and resolves them, thereby enhancing the overall stability of your system.
File Shredder and Drive Shredder: Privacy is paramount in the digital world. SpyZooka takes this into account by offering tools that permanently delete files and drives, ensuring that once you delete something, it stays deleted.
Windows and Browser Optimizer: This feature tweaks your Windows settings and browser configuration for optimal performance, leading to faster load times and a smoother online experience.
Junk Files Cleaner and Spyware Cleaner: As your PC ages, it tends to gather unnecessary files. SpyZooka's Junk Files Cleaner proficiently scans your system, removing these redundant files and freeing up valuable storage space. But clutter isn't the only concern in the digital world; internet threats also pose a significant risk. That's where SpyZooka's Spyware Cleaner comes into play. It not only eradicates spyware already present on your system but also provides daily updates to combat emerging threats, arming your PC with robust defense mechanisms against potential cyber-attacks.
Unwanted Programs Uninstaller: It simplifies the often tedious process of uninstalling unwanted programs, ensuring your system stays free of clutter and runs smoothly.
While testing out SpyZooka, I found that it efficiently cleaned my hard drive of junk files, fine-tuned my Windows settings and browser, and offered robust protection against spyware. With its blend of user-friendly design and an extensive range of tools, SpyZooka stands out as a premier choice for those seeking to enhance their PC's performance and maintain its health.
2. CCleaner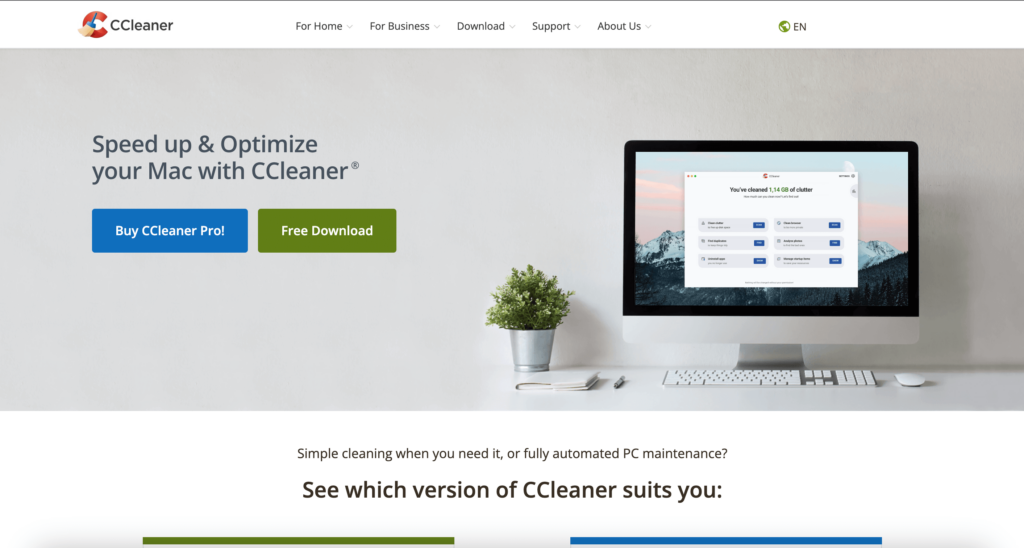 CCleaner is one of the oldest and most widely used PC cleaning tools. It boasts an intuitive interface and comprehensive cleaning capabilities, making it an excellent choice for beginners and experienced users.
Key Features:
Browser Cleaner: CCleaner cleans your browser's history, cookies, and cache, enhancing your internet experience and protecting your privacy.
Disk Cleanup: CCleaner effectively scans and removes unnecessary files, freeing valuable disk space.
Registry Cleaner: It fixes broken or redundant registry entries, enhancing your system's stability.
Startup Optimizer: CCleaner allows you to manage your startup programs, reducing boot time.
Duplicate Finder: CCleaner detects and helps you remove duplicate files on your system, freeing up even more storage space.
Uninstall Tool: With this, CCleaner allows you to remove software that you no longer need, effectively keeping your system clutter-free.
Drive Wiper: This tool securely erases free space or entire drives, safeguarding your privacy by ensuring deleted files cannot be recovered.
3. Clean Master for PC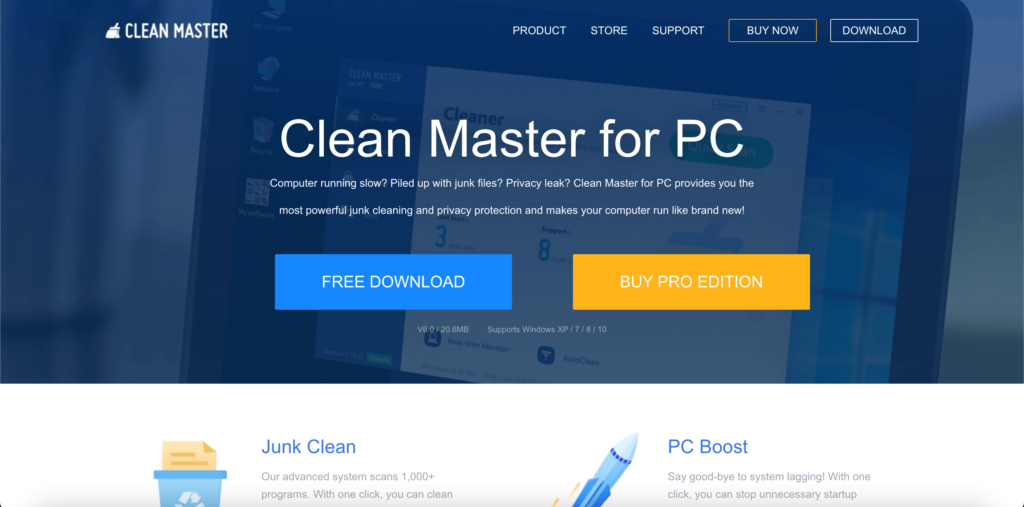 Clean Master for PC is from the creators of the popular Clean Master Android app. It is a robust cleaning and optimization tool. It's user-friendly interface and powerful features make it a strong competitor in the PC cleaning market.
Key Features
Junk Files Cleaning: It scans and eliminates system junk, residual files, and privacy traces.
Privacy Protection: Clean Master provides robust privacy protection by erasing online traces and unneeded files.
Driver Booster: It helps update your drivers to improve system stability and performance.
File Shredder: This feature allows you to permanently delete unwanted files, ensuring they can't be recovered, thus maintaining your digital privacy.
PC Boost: Clean Master can optimize your system by managing startup items and system settings, resulting in faster and smoother operation.
Antivirus: Clean Master includes an antivirus tool that scans and removes potential threats to keep your PC safe.
Auto-Clean: This feature allows Clean Master to perform regular, automatic clean-ups without your intervention, keeping your system optimally running with minimal effort.
4. Glary Utilities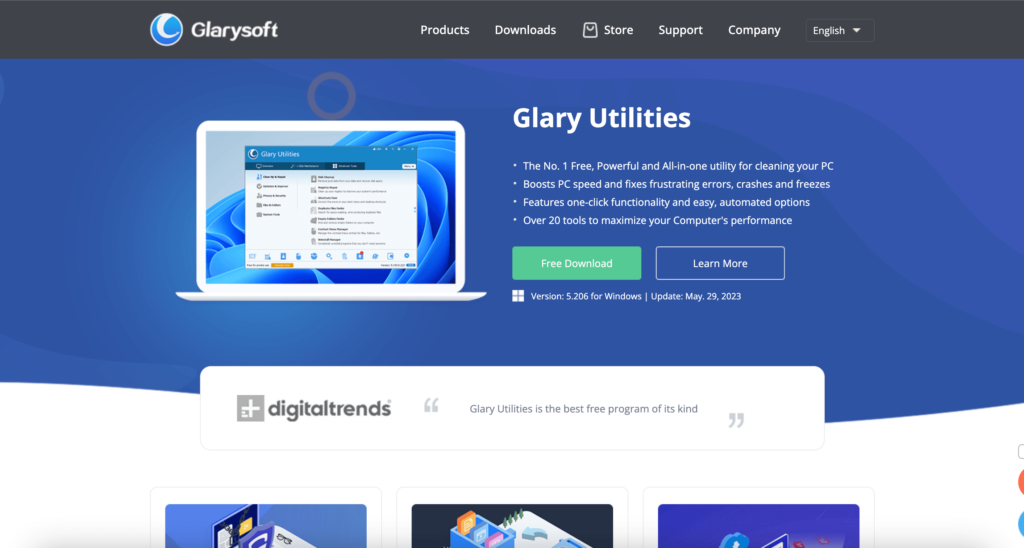 Glary Utilities is an incredibly comprehensive system cleaning and optimization tool, boasting an impressive roster of more than 20 utilities, each designed to maximize your PC's performance. This robust toolkit offers a range of functionalities that encompass not just basic cleanup tasks but also advanced system tweaks, effectively catering to all your PC optimization needs.
Key Features
Disk Repair and Defrag: This tool not only identifies and repairs disk errors but also defragments your hard drives. These functions help maintain disk health and optimize performance.
Memory Optimizer: This feature helps manage your system memory more effectively, thus enhancing your PC's speed and overall efficiency.
Malware Remover: Glary Utilities' robust malware removal tool scans and eliminates potential threats, safeguarding your system against harmful entities.
Shortcut Fixer: This utility identifies and fixes invalid or broken shortcuts, thereby decluttering your system.
Startup Manager: It allows you to manage and optimize startup applications, contributing to a quicker boot process.
Registry Cleaner: This feature identifies and fixes issues in your system's registry, thus improving its stability and performance.
Browser Assistant: This utility manages all browser add-ons in one place, enhancing your web browsing experience.
Tracks Eraser: This tool erases all traces of your online activities to protect your digital privacy.
While Glary Utilities boasts many features, beginners might find its interface overwhelming.
5. Advanced SystemCare Free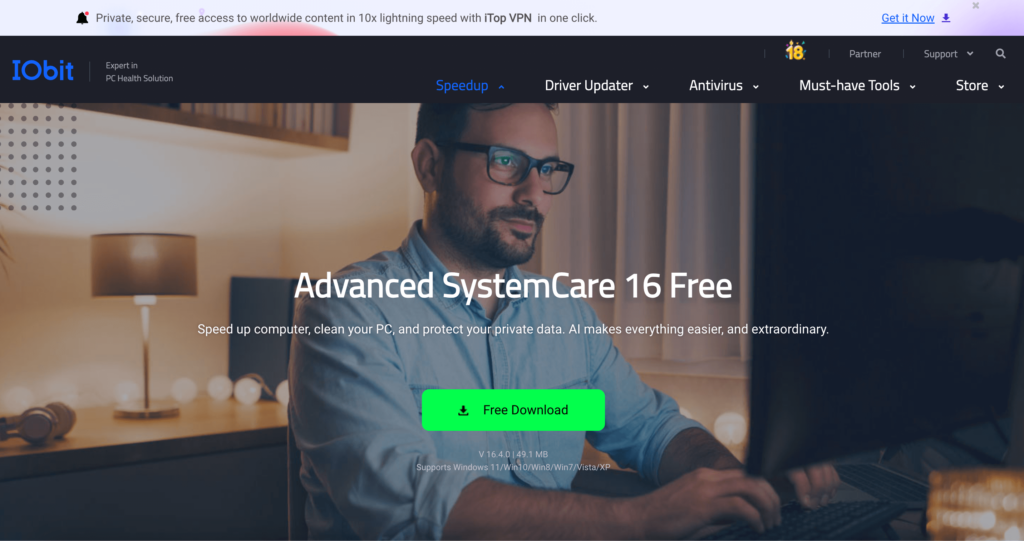 IObit's Advanced SystemCare Free is a multipurpose tool that integrates many features, making it more than just a PC cleaner. It's designed to keep your PC in its best state with cleaning, optimization, and security utilities.
Key Features
System Optimization: This tool performs an in-depth clean-up and optimization of your PC to boost system performance.
Real-time System Monitoring: Advanced SystemCare is vigilant in continuously monitoring your system, enabling it to identify and address potential issues proactively.
Spyware Removal: It houses a potent spyware removal feature that detects and eliminates spyware threats, ensuring your PC's safety.
Startup Optimizer: Advanced SystemCare allows you to manage the applications that launch at startup, speeding up your system boot time.
Disk Cleaner: This utility sweeps your system to remove junk files, freeing up valuable disk space.
Internet Speed Booster: This tool optimizes your internet settings to improve your online experience and download speeds.
Registry Cleaner: Advanced SystemCare efficiently detects and fixes any issues within your system's registry, thereby enhancing your PC's stability.
Privacy Shield: This feature blocks unauthorized access to your sensitive data, offering an additional layer of privacy protection.
6. BleachBit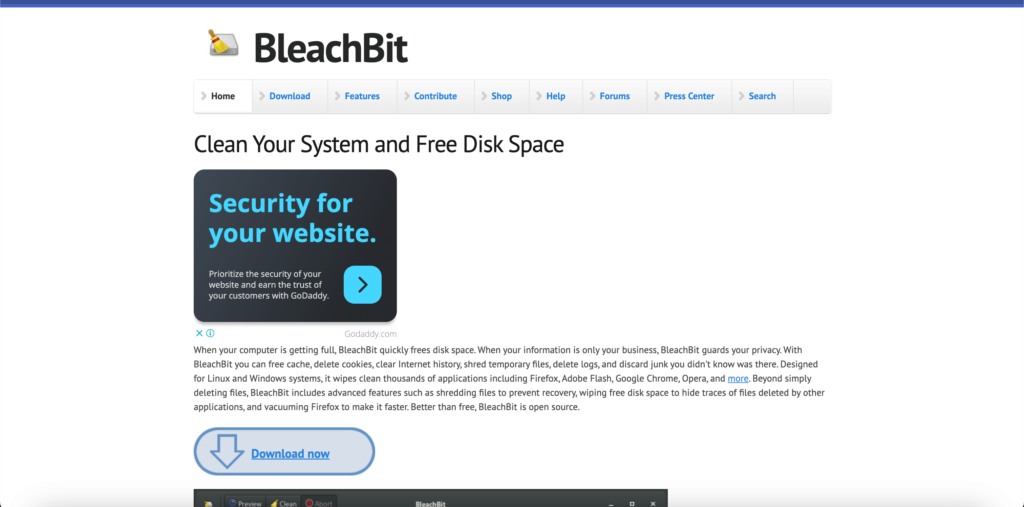 BleachBit stands as a formidable competitor in the realm of PC cleaning tools. As an open-source solution, it has quickly gained popularity, propelled by its robust cleaning capabilities and an unwavering commitment to safeguarding user privacy.
This powerful utility not only excels at eradicating unnecessary files, thereby freeing up valuable disk space, but also shines in preserving user confidentiality by meticulously erasing any traces of online activity. Its comprehensive feature set, combined with a straightforward interface, make BleachBit an accessible and highly effective tool in the fight against system clutter and for enhanced privacy protection.
Key Features
Deep Disk Cleanup: BleachBit provides a thorough cleanup operation that identifies and eliminates a vast range of unnecessary files including logs, cache, cookies, and temporary files. An additional feature allows it to wipe free disk space, ensuring that deleted files are completely unrecoverable.
Shredder: The Shred Files and Folders feature in BleachBit allows users to securely delete specific files or folders from the system. This comprehensive removal guarantees that the data cannot be recovered, even with the use of specialized software, adding an extra layer of data security.
Privacy Guard: This feature is testament to BleachBit's commitment to user privacy. It meticulously cleans up traces left behind by online and offline activities, mitigating the risk of sensitive data exposure.
Language Cleaner: BleachBit includes a tool that removes localization files for languages you don't use, freeing up additional disk space.
Overwrite Free Disk Space: This feature allows you to permanently erase unused disk space, ensuring previously deleted files can't be recovered.
How to Select the Right Pc Cleaners for Windows 10?
When choosing the best free PC cleaner for your Windows 10 system, it's essential to consider a few key factors. Here are some simple questions to ask yourself:
What areas of the PC do you want to clean? Like temporary files, browsing history, registry entries, or unwanted programs. Make sure the PC cleaner you choose can handle those cleaning tasks.
Is the PC cleaner easy to use? Look for a PC cleaner with a user-friendly interface.
Can I trust the PC cleaner? Read user reviews and check ratings to ensure it's trustworthy and has a good track record.
Does the PC cleaner offer any extra features? Some PC cleaners have additional tools like system optimization features, startup managers, or privacy protection options.
Does this PC cleaner provide updates and support? Check if the PC cleaner receives regular updates to stay compatible with the latest versions of Windows 10.
By asking yourself these simple questions, you can evaluate different free PC cleaners for Windows 10 and choose the one that best suits your needs.
Summing Up
PC cleaners play an integral role in maintaining your computer's efficiency, but they should not stand alone in your system's maintenance routine. They are one piece of a larger puzzle that ensures your PC stays in prime condition.
Keeping your software up to date is crucial, as each update brings necessary improvements and security fixes that protect your system from emerging threats. Regularly running antivirus checks adds another layer of protection, scanning for and removing any malicious entities before they can do any harm.
Manually managing your files is also a key practice. This gives you a better understanding of what is occupying your system's storage and allows you to make informed decisions about what to keep and what to discard. Regularly backing up essential files provides a safety net for your data, protecting it from potential loss or damage.
Ultimately, the effectiveness of a PC cleaner is amplified when it's part of a broader, comprehensive maintenance routine that includes regular updates, antivirus checks, and personal file management. By adopting these practices, you will not only be optimizing your system's performance, but also extending its lifespan and ensuring a safer, smoother computing experience.