Have you heard of Macs? They are among the famous computers which people want these days. Macs are known for their sleek design, powerful performance, intuitive user interface and reliability. They have become famous for professionals, creatives, and regular users.
But no matter how excellent your Mac is, it may start working slowly over time and cause some problems that requires maintenance of your system. This happens due to the digital clutter and temporary files that can slow down their performance over time. So today, we will share some of the best free Mac cleanup tools which will optimize your Mac's performance, free up storage space, and enhance its overall efficiency.
We've done our homework, read user reviews, tested features, and checked out how easy these tools are. So, if you are ready, let's get started!
What is a MacBook cleaner?
A MacBook cleaner, also known as Mac cleanup software, is a type of utility software designed to optimize, clean, and improve the performance of a MacBook. This type of software detects and removes the unnecessary files on the MacBook that may be taking up valuable storage space or causing system slowdowns.
The unnecessary files can include:
Cache files: Temporary data stored by apps, browsers, and the system to speed up tasks.
Log files: Records of system or application activities. They are primarily helpful for troubleshooting purposes.
Unused applications: Apps that have been installed but are no longer used.
Duplicate files: Identical files stored in multiple locations.
Large and old files: Files that consume a lot of storage space and you last opened a long time ago.
How to Choose the Right Mac Cleaner?
People often choose Mac cleanup without any research and, after using it, get no results. When you are looking for a Mac cleaner, it's essential to keep a few key factors in mind.
1. Reputable Source
Ensure the Mac cleaner you are downloading is from a trusted and reputable source. Look for well-known software developers or companies with a solid industry track record.
2. Safety
Security is another important factor when you are using any software. Ensure that your Mac cleaner is safe to download and free from any malware or potential threats. Check reviews and user feedback to assess its safety.
3. Cleaning Features
Take a close look at the cleaning features which your Mac cleaner tool is offering. Does it cover essential areas, such as removing unnecessary files, optimizing system performance, and freeing up storage space? The more comprehensive the cleaning features, the better.
4. Free Trial
Consider whether the Mac cleaner offers a free trial period. This allows you to test the software and see if it meets your needs before purchasing.
5. Bonus Features
Some Mac cleaners go above and beyond basic cleanup tasks. They offer additional features like malware detection and removal, privacy protection, or performance optimization tools. If these extra features are important to you, look for a Mac cleaner that includes them.
What Are the 5 Best Free Cleaners for a Mac?
We suggest free Mac cleanup tools with excellent performance and a user-friendly interface. Here are the top free Mac cleaners that will give your computer a new lease on life.
1. CleanMyMac X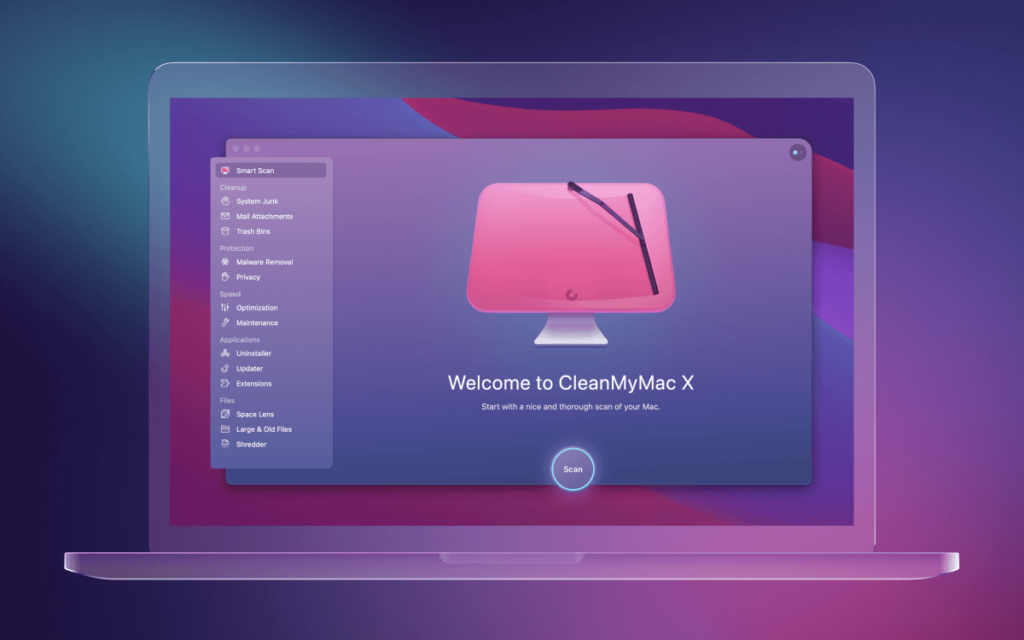 At the top of our list of the best free Mac cleaner tools is CleanMyMac X. This tool is famous for its ease of use and effectiveness in optimizing your Mac with just a few clicks. CleanMyMac X has more than just basic cleaning tasks. It offers additional features like malware cleaning, cache cleaning, and removing temporary files.
This software scans the laptop and gives detailed information about files and malware that might slow down the Mac. CleanMyMac X has a great feature that identifies problematic apps causing the device to lag. So, it gives you the power to act and restore Mac's speed and efficiency.
CleanMyMac X offers a paid version with advanced features. But its free version also provides essential services like temporary file cleaning and performance optimization. You don't have to spend money to experience significant benefits from Mac's speed and efficiency.
So, if you're looking for a simple and effective free Mac cleanup tool, CleanMyMac X is the perfect choice.
See the detailed CleanMyMac X review.
2. DaisyDisk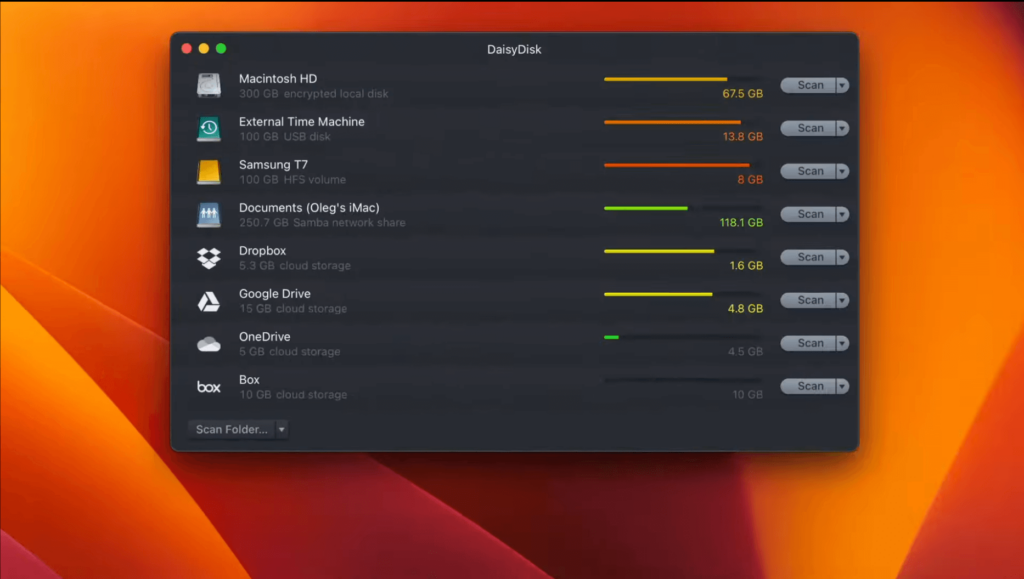 If you want to boost the performance of your MacBook, DaisyDisk is a fantastic free Mac cleaner option. This software provides you with a detailed chart showing any issues or reasons that could affect the laptop's performance.
It has a DaisyDisk chart where you can easily decide which apps to keep and remove. Your Mac stores cached and temporary files to speed up processing and loading. However, these files can accumulate over time and slow down your Mac. DaisyDisk quickly and easily wipes out these unnecessary files and stores cached.
Another great feature of DaisyDisk is its one-click junk removal. With a simple click, you can eliminate all the junk files on your Mac. There is also a Quicklook feature that lets you preview the content in the app. If you need to save any data, you can do so before cleaning. But if you're ready for a completely clean, click the button, and all the junk will be wiped out.
You can download the free version of DaisyDisk from their official website. However, if you prefer to install it from the Apple App Store, there is a $9.99 purchase fee, as no free version is available on the store.
See the detailed DaisyDisk review.
3. MacBooster 8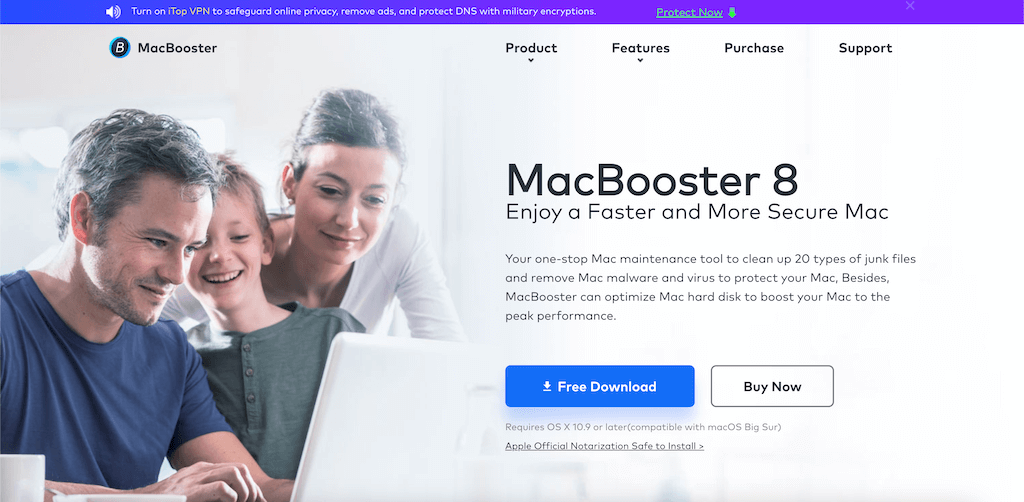 Are you looking to supercharge the performance of your Macbook? Look no further than MacBooster 8. It is a powerful tool that will clean up those temporary junk files that are slowing down the device.
MacBooster 8 offers simple cleaning of temporary files and additional functions like malware cleaning, cache cleaning, and temporary file removal. When you run the software, it will thoroughly scan the laptop and provide details about files and malware affecting its performance. It even identifies culprit apps that are dragging down the device speed.
But MacBooster 8 continues beyond cleaning temporary files. It also handles adware issues. When you connect the Mac to the internet, you may encounter adware that bombards you with countless ads. MacBooster 8 effectively removes all adware from your Mac and gives a smoother browsing experience.
The tool comes in two versions: a paid version with advanced offerings and a free version that covers essential services like temporary file cleaning and performance enhancement.
See the detailed review for Macbooster 8.
4. App Cleaner & Uninstaller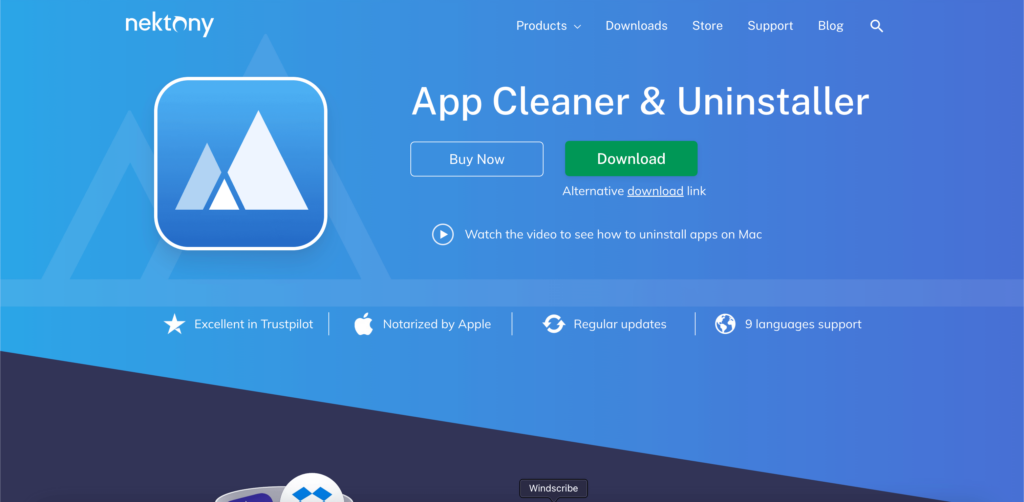 App Cleaner & Uninstaller is another simple and effective tool to optimize your Mac's performance. This handy tool cleans up junk files and cached data, slowing down the Mac.
Have you noticed that some apps automatically start when you boot up your Mac? They are bothersome and take slow load times. With App Cleaner & Uninstaller, you can quickly remove the cached data and temporary files associated with these apps. You also have the option to pause or disable apps that are causing slowdowns. However, it's vital to be cautious when disabling system apps to avoid potential issues.
Manually uninstalling apps one by one can be time-consuming, but it's easy with App Cleaner & Uninstaller. You can easily select and uninstall multiple apps with just a single click. It's also important to know that App Cleaner & Uninstaller doesn't support malware and adware removal. Consider additional security measures if you frequently use your Mac for online activities.
The tool is available in two versions: a free version that covers basic cleaning tasks such as clearing cache. The paid version offers advanced features. You can download the free version from the developer's official website, while the paid version can be purchased from the App Store.
See the detailed App Cleaner & Uninstaller Review.
5. CCleaner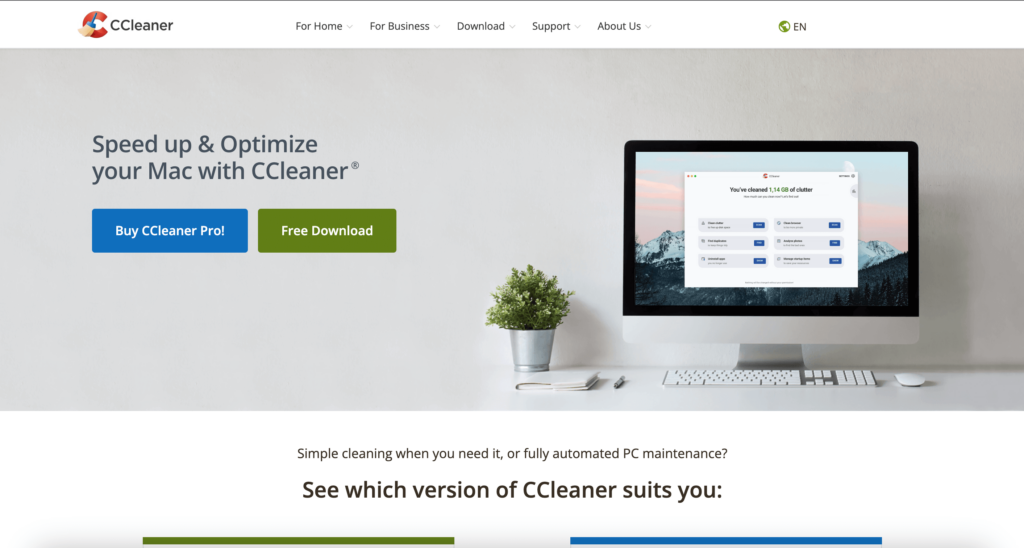 CCleaner is the last highly regarded free Mac cleaner on our list today. Whether you spend much time online or want to ensure your Mac is in top shape, CCleaner is here to help.
It can clean up cached files and your browsing data and history. Regularly clearing these files prevents unwanted cookies from invading your browser and compromising your online privacy. In addition to its online capabilities, CCleaner provides options to clean junk files, clear the cache on your Mac, and remove unnecessary files from your system.
CCleaner also addresses another common performance issue: broken permissions. When you clean up broken permissions, you can experience faster boot-up times and overall system responsiveness.
The free version of CCleaner offers essential features to clear junk and cached files. However, you can upgrade to the paid version for excellent support and automatic updates. You can enjoy a faster and more efficient Mac experience with CCleaner as your trusted Mac cleaner.
See the detailed CCleaner Review.
Wrapping Up
It is essential to have the right Mac cleanup tool for optimizing Mac's performance, reclaiming storage space, and maintaining a smooth user experience. You can download the above best free Mac cleanup tools for Mac cleanup. These tools offer a user-friendly interface, comprehensive cleaning features and hassle-free computing experience.