CCleaner Review 2023
CCleaner continues to hold its ground as a powerful and affordable cleaning software in the market. Its rich array of features, combined with its robust performance, certainly makes it a worthy choice for users looking to optimize their device's performance. While it does have a few shortcomings, including its lack of iOS support and occasional performance glitches, the software's benefits largely outweigh these minor drawbacks. Moreover, the security issues that previously marred its reputation have been addressed, making it a reliable tool for maintaining digital cleanliness. Whether you opt for the free version or decide to invest in the Professional version, CCleaner offers solid value and effective results.
Features & Performance

9.5

User Ratings (

1

Votes)

9.7
Cyberlab reviews products based solely on our testing criteria and not by payments from vendors. We don't accept paid reviews, paid articles or payment for higher placement. If you buy through our links we may earn a commission which helps support our work. Review Ethics
In an era where digital clutter can impact your device's performance just as much as physical dust clogs up a machine, the role of cleaning software has become more critical than ever. These tools are essential for maintaining optimal device performance, clearing unwanted files, and ensuring a smooth, efficient digital experience. In the crowded market of optimization software, one name that has carved a niche for itself is CCleaner.
Developed by Piriform, CCleaner started as a PC optimization tool in 2004. Over the years, it expanded its offerings to include versions for macOS and Android. Garnering numerous positive CCleaner reviews, the software has been downloaded over two billion times and sees over five million desktop installs every week.
While CCleaner has earned positive feedback, it is essential to address its limitations. From occasional glitches to security concerns, users have voiced their opinions. So, the question arises: is CCleaner still a worthy investment of your time? In this detailed CCleaner review, we will delve into its features, performance, user-friendliness, and pricing, shedding light on its true potential.
My Hands on Experience with CCleaner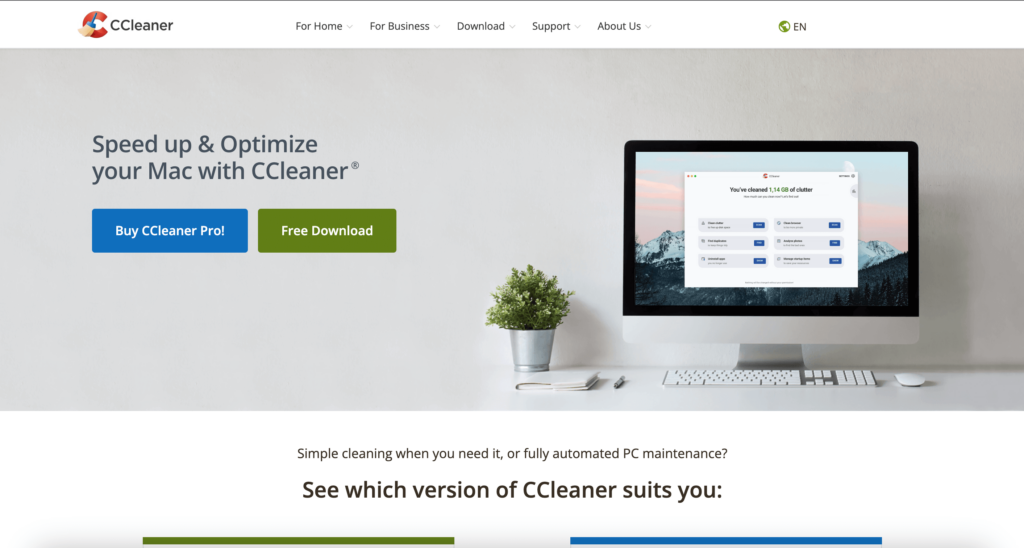 CCleaner Professional stands out with a smooth user experience, starting from its easy download and installation process. It impresses with its 'Health Check' feature that quickly scans your system, identifying privacy trackers, superfluous files, and programs needing updates. During my test, it found a significant number of trackers, hundreds of megabytes of unnecessary files, and a couple of outdated apps.
The software's 'Custom Clean' feature provided a comprehensive analysis, revealing over 2GB of cache files that could be discarded. With these features, CCleaner managed to free up a substantial 3.48GB of space on my device, surpassing its competitor, MacPaw's CleanMyPC.
Additional useful tools include the 'Driver Update' feature, which keeps all drivers updated for optimal system performance, and a Registry tool that efficiently identifies and fixes issues. The 'Duplicate Finder' and 'Disk Analyzer' tools are also handy for managing storage space. However, I found the option to select all duplicates for deletion was missing. Despite this, CCleaner Professional delivered overall impressive performance in enhancing system efficiency and freeing up storage space.
CCleaner Features
Here's an overview of some key features in detail offered by CCleaner:
Health Check: This is a comprehensive evaluation tool for your PC. It scans your system to suggest possible improvements in terms of Privacy, Space, Speed, and Security. It identifies what to remove or disable, and which components need to be updated for optimized performance. This feature is an efficient way to keep your PC in the best possible shape.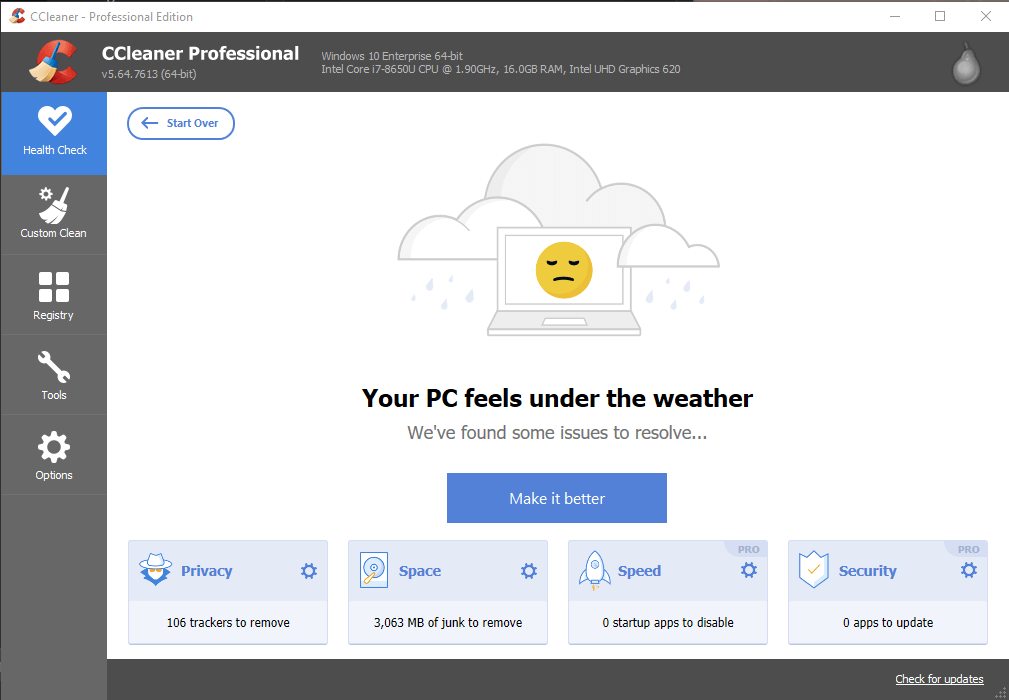 Disk Analyzer: The Disk Analyzer is a powerful feature that scans your hard drives and provides detailed information about the files that are occupying the most space. Understanding what's taking up space can help you make informed decisions about what to delete, helping you reclaim storage and improve system performance.
Drive Wiper: The Drive Wiper is a security feature available in the Windows 10 version of CCleaner. It lets you permanently wipe deleted files from your hard drives, ensuring they can't be recovered. With various levels of data overwriting, you can choose the level of security that best fits your needs.
Registry Cleaner: The Registry Cleaner is designed to identify and eliminate old, invalid, or corrupted entries in your Windows Registry. These unnecessary entries can slow down your computer and trigger error messages. By removing them, CCleaner helps streamline your system for better performance.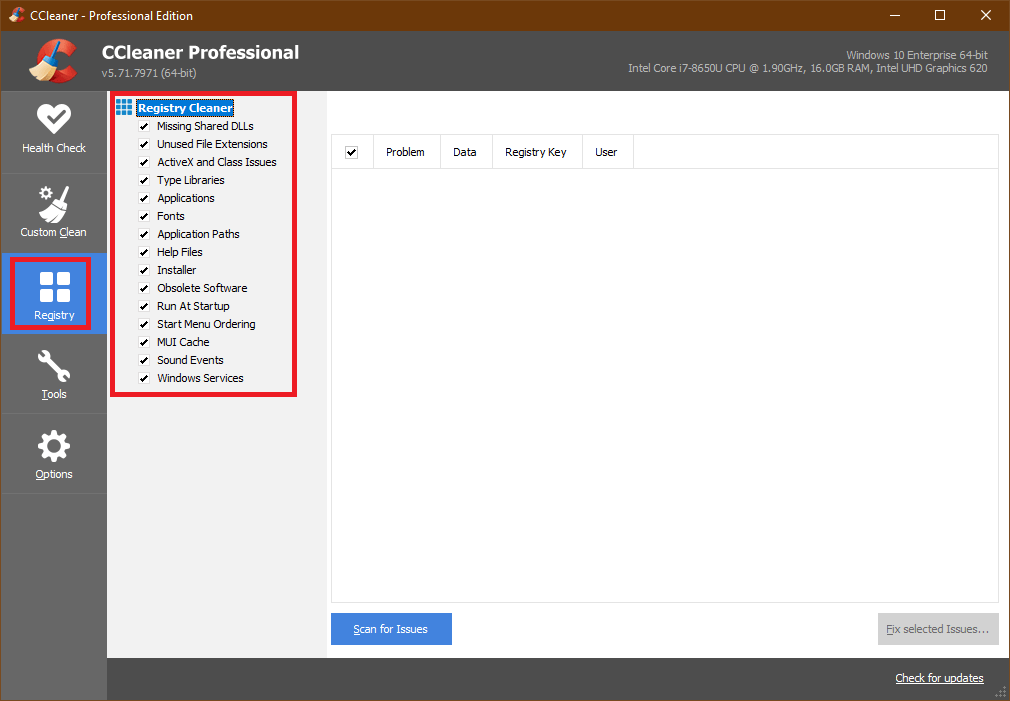 Startup and Browser Plugins Manager: This feature gives you control over which programs and browser plugins should launch when your PC starts. By managing these elements, you can potentially reduce your PC's boot time and improve browser performance.
Deep Clean: Exclusive to the Pro edition, Deep Clean scans your entire system to find and remove junk files. This thorough cleaning can free up significant storage space and potentially improve your PC's speed and responsiveness.
Smart Cleaning: Smart Cleaning continuously monitors your system for junk files and alerts you when they're found. It uses the same rules as the Custom Clean feature, giving you consistent, effective cleaning.
Custom Clean: This free feature lets you manually select and delete junk files by application. This includes internet cache, browsing history, and temporary files, helping to keep your system clean and optimized.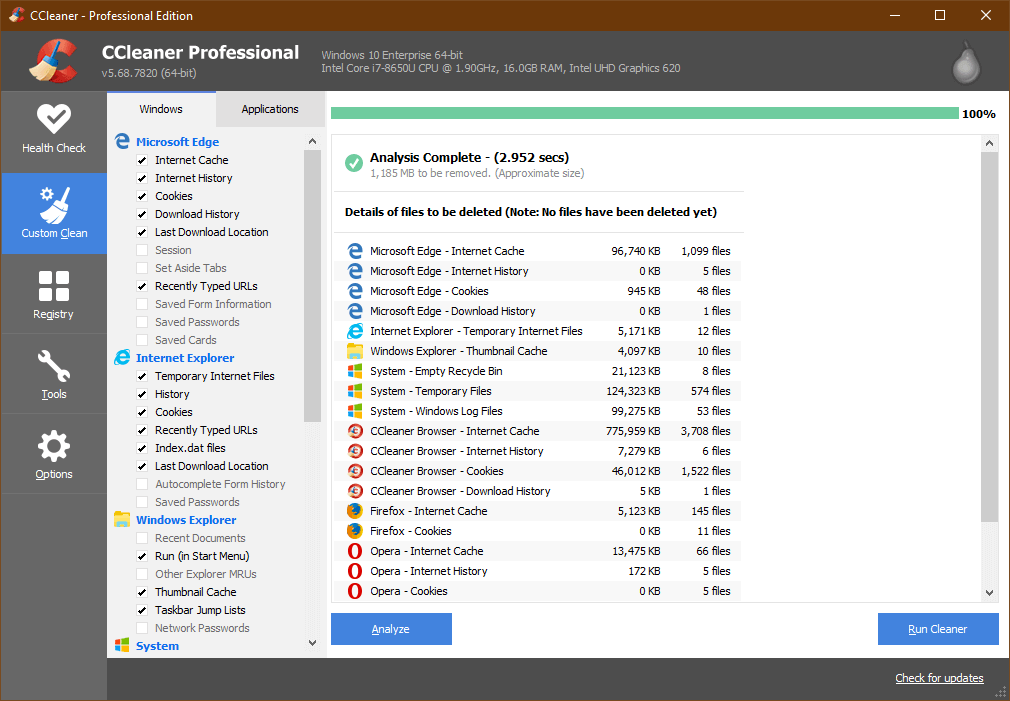 App Hibernation: Exclusive to the Android version of CCleaner, App Hibernation prevents apps from running in the background. This helps conserve battery life and reduce unnecessary data usage, optimizing your mobile device's performance.
Task Killer: Also known as the RAM Booster, Task Killer allows you to stop running tasks and free up memory on your device. This can be especially helpful for maintaining device speed and performance.
Advanced Photo Optimizer: Available with a Pro Android license, this feature scans your photo library, identifying and offering to delete similar, old, or low-quality photos, even those from private chats. This can help to free up significant storage space on your device.
Large File Finder: This macOS-specific feature can identify oversized files that might be slowing down your system. By pinpointing these files, it makes it easier for you to manage your storage and optimize system performance.
Duplicate Finder: Duplicate Finder scans your folders and drives for duplicate files, which you can then choose to delete. This can help to free up storage space and reduce clutter on your PC.
CCleaner's UI/UX
Generally, CCleaner provided a satisfactory user experience. While it may not sport the most modern design, its interface is functional and consistent. I evaluated both premium and free versions of the software, finding minimal differences in aesthetics between the two. The Android version, designed specifically for mobile devices, is more visually appealing and modern.
The free version of CCleaner provides access to all the features, though premium features are greyed out and labeled as PRO. Helpful resources are linked within the application, although some inconsistencies were noticed on the website, specifically regarding pricing. The software exhibited occasional slowdowns, but nothing significant enough to interfere with my device's functioning. On the whole, CCleaner proved to be a practical application.
CCleaner Pricing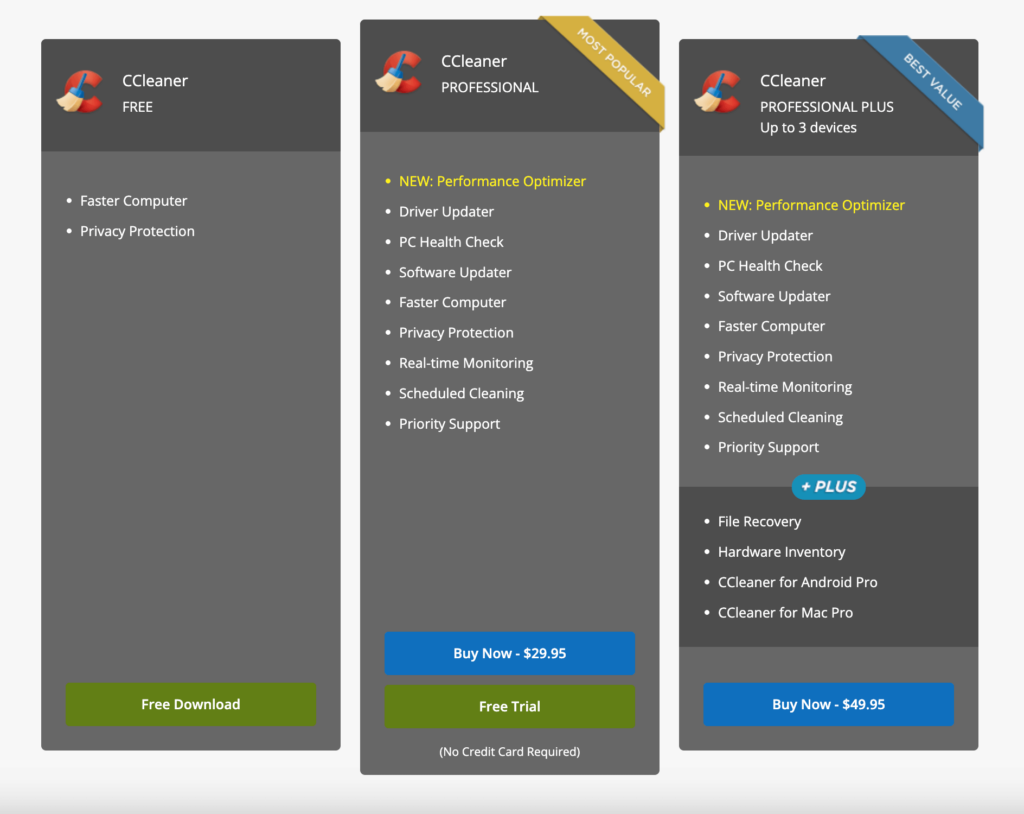 Naturally, the majority of users tend to lean towards CCleaner's free version for cost-saving reasons. This version is certainly capable, but it's important to remember that it only provides access to the basic features. If you're looking for more advanced tools, you should consider upgrading to CCleaner Professional. For those wanting to unlock the full potential of the software, including Recuva and Speccy, CCleaner Professional Plus is the way to go.
Here's a quick breakdown of the plans:
CCleaner Free: This is free of charge and includes PC Health Check, Faster Computer, and Privacy Protection features.
CCleaner Professional: Priced at $29.95 per year, this plan includes everything offered in the Free version, plus Performance Optimizer, Driver Updater, Software Updater, Cleans Everywhere, Guards Against Junk Files, and Automatically Clears History.
CCleaner Professional Plus: Available at $44.95 per year or $79.95 for two years, this plan provides all the features of CCleaner Professional, in addition to Recuva and Speccy.
CCleaner Alternatives
Nektony App Cleaner & Uninstaller
Avg PC TuneUp
System Mechanic
Is CCleaner Safe to use?
Since Avast's acquisition of CCleaner in mid-2017, the software experienced two major security breaches, which significantly tarnished its previously solid reputation. Following these incidents, Microsoft identified CCleaner's registry cleaning utilities as potentially unwanted applications, further affecting its image. The breaches involved data theft, including IP addresses, which were sent to a server in the U.S. The intention appeared to be corporate espionage.
However, CCleaner remains operational today.
Pros & Cons of CCleaner
Pros
Excellent Performance
Feature-Rich
Real-Time Junk Monitoring
Auto App Updates
Free Version & Trials Available
Cons
Advertisements in Free Version
Lack of iOS Support
Average User Interface
Final Thoughts: Is CCleaner Worth It To Buy in 2023?
Despite a history marked by some security incidents following its acquisition by Avast, CCleaner has proven its resilience, showcasing its robust functionality and safety in our most recent evaluation, as well as in various others.
It's completely understandable if you lean towards a system optimization tool with a less tumultuous background, but our scrutiny in 2023 did not unearth any significant concerns. One area that could use improvement is the clarity around additional charges for non-U.S. purchases. A bit more transparency from the company in this regard would help to avoid any unexpected surprises.
However, it's important to note the strides CCleaner is making in terms of performance. With a regular rollout of fresh features, it's evolving into a well-rounded system utility tool. Although the lack of iOS support is a shortcoming, CCleaner still outshines many competing system cleaners in terms of versatility. Moreover, the presence of free versions and trials significantly reduces any potential risk when choosing this product.
If your trust in Avast remains unshaken despite past cyberattacks, there shouldn't be any lingering doubts about CCleaner. It continues to hold its own as an industry-leading system cleaner, delivering notable performance even in its free variant. While its user interface might not win any design awards, it packs an impressive suite of tools once you delve into it. A greater degree of user control over deletions would be a welcome improvement, however.