DaisyDisk Review
DaisyDisk serves as a vibrant and interactive tool for Mac users, offering a visually pleasing portrayal of their disk space usage. It's designed for simplicity and user-friendliness, giving users the added benefit of file preview before deciding on deletion. As a one-time purchase, DaisyDisk is an enduringly useful utility that I believe will continue to provide value throughout the lifespan of your Mac.
User Ratings (

1

Votes)

10
Cyberlab reviews products based solely on our testing criteria and not by payments from vendors. We don't accept paid reviews, paid articles or payment for higher placement. If you buy through our links we may earn a commission which helps support our work. Review Ethics
Facing the frustration of a dwindling disk space has become a common headache for me and finding solutions to free up some room is far from straightforward. That's when DaisyDisk came into the picture. This application is a godsend for us Mac users, offering an easy, fast, and secure way to optimize disk space. It's transformed the cumbersome process of pinpointing large files and removing them into a visually pleasing, effortless task.
I've spent the better part of this year relying on DaisyDisk on my MacBook Pro, running on macOS Big Sur. What I've discovered is the immense benefit of its unique visual interface. It uncovers all those hidden files and applications lurking in the corners of your Mac – the ones that slip away from your attention until your disk is nearly full. The beauty of it all is how it removes the uncertainty. Most of us don't know where to start when faced with an overloaded disk. But with DaisyDisk, it's as if the solution becomes intuitively clear. The interface is so user-friendly that you won't need to flip through a manual or scour the internet to figure out how to navigate it.
In contrast, the standard storage management system on the MacBook leaves much to be desired. It simply presents you with a bar, vaguely indicating what's eating up your space and then, upon diving deeper, it just throws a long list at you. But with DaisyDisk, managing my storage has become a much more streamlined and comprehensible process.
In this review, I'll take a deep dive into DaisyDisk, exploring its strengths and weaknesses, its unique features, and its overall performance in real-world scenarios. Whether you're constantly battling with a full hard drive or are simply curious about what's eating up your storage, this review will provide a comprehensive understanding of what DaisyDisk brings to the table.
DaisyDisk Review 2023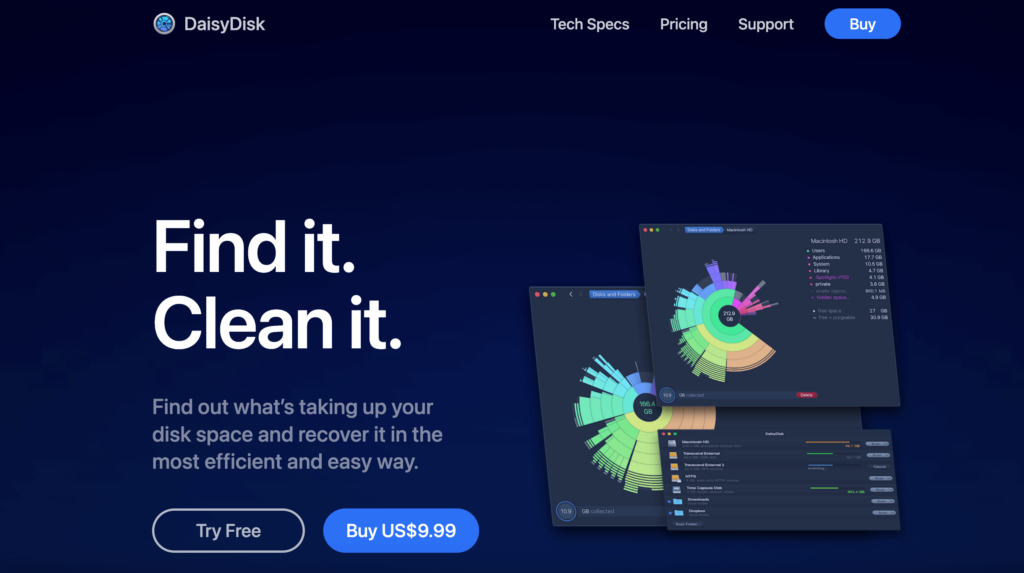 As a tech enthusiast, I find DaisyDisk to be an impressive piece of disk management software crafted exclusively for us Mac users. Its core purpose is to evaluate, oversee, and liberate precious hard drive space. It executes this task by delivering a visual snapshot of your disk utilization. With this, I can effortlessly spot and wipe out those redundant files hogging my much-needed space. The once daunting task of cleaning up my drive is now a breeze, all thanks to DaisyDisk.
In the past, my attempts at storage management often felt like a tiresome task that was filled with anxiety – I was always worried that I might accidentally delete something important. But DaisyDisk has flipped the script on this process. It's turned the experience into something vibrant, engaging, and even rewarding. Now, freeing up disk space isn't just a chore, it's an exploration – and one that's more enjoyable, thanks to DaisyDisk.
DaisyDisk's Features
For those of you who haven't had the pleasure of encountering DaisyDisk before, let's take a beat to marvel at its visually stunning interface – a feature that has earned rave reviews. As I have found, its sleek and intuitive design is a striking contrast to the rather drab and rudimentary graphic used by the standard Mac storage system. Trust me, it's not just a disk management tool, it's a feast for the eyes.
Scanning Speed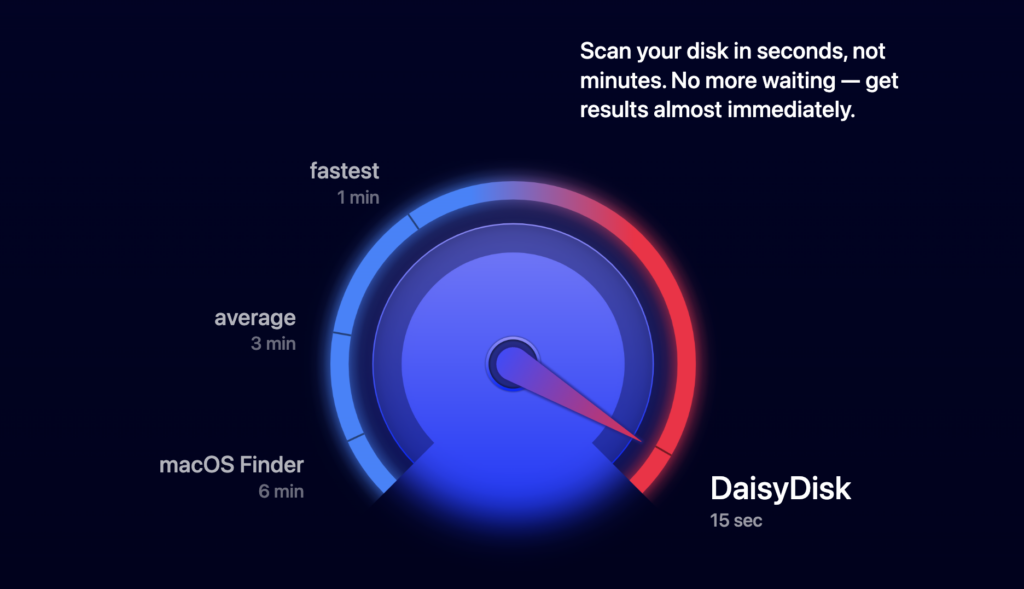 In terms of speed, DaisyDisk is truly a standout. On my Mac, I have 256 GB of flash storage, with about 200 GB currently in use. It took DaisyDisk only 24 seconds to scan my disk – a feat that is genuinely hard to critique.
Another DaisyDisk user I know, who has a Mac with a stronger processor and a 750 GB disk, of which 450 GB is in use, said it only took 1 minute for DaisyDisk to scan his entire disk. Even when it came to his external drive of a massive 1500 GB (with 1300 GB in use), DaisyDisk wrapped up the scan in just under 5-7 minutes. Now, that's a testament to its speed and efficiency!
Simplified File Deletion
DaisyDisk simplifies the process of identifying files for deletion. A quick right-click (or two-finger click) unveils options to preview the file via the built-in Quick Look or locate it in Finder, directing you to the file's actual position.
Deleting files in DaisyDisk is as easy as dragging and dropping them into the collector situated at the bottom left corner. These files stay put until you hit the delete button, triggering a 5-second countdown before they're irreversibly deleted. This delay is a safeguard against accidental deletions. Once the countdown concludes, the files are deleted permanently, bypassing the trash.
Identifying Hidden Space
"Hidden space" in DaisyDisk refers to storage occupied by restricted files or content that DaisyDisk cannot access due to certain settings. Instead of neglecting this space, DaisyDisk categorizes it as "hidden space", allowing an accurate representation of your total disk size. Running a "Scan as Administrator" can often reveal some of these restricted files, subsequently reducing your hidden space.
Visual Interface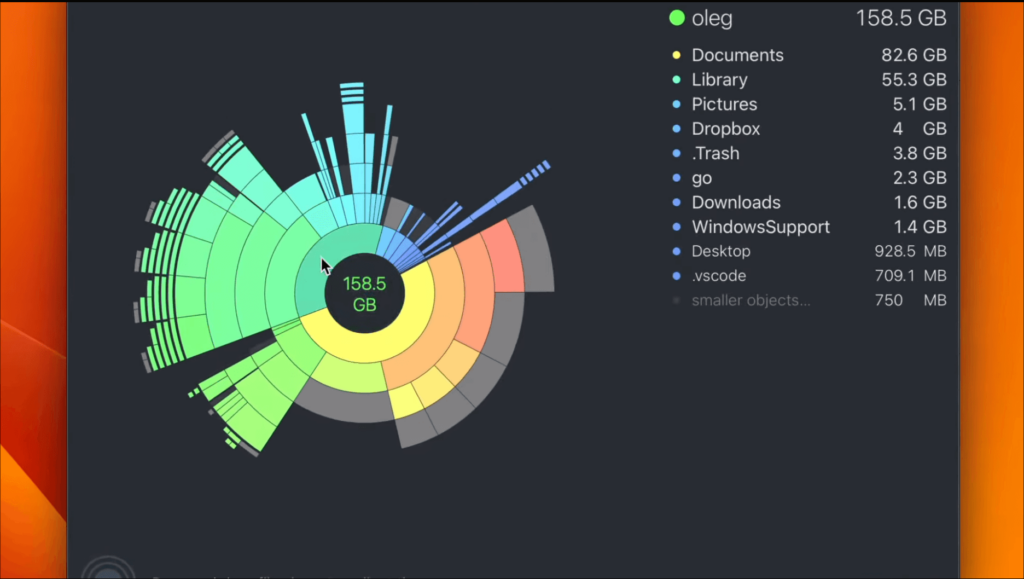 When it comes to interactiveness, DaisyDisk infuses an element of fun. It presents your content as a colorful sector diagram where larger files occupy more space. It's just like playing a game – click on a segment and the display digs deeper, revealing more details. Each clicked segment expands into its own diagram, breaking down its components in a simple, understandable manner.
Family Sharing Support
Apple's Family Sharing service enables up to six family members to share purchases from the App store, iTunes, iBooks, and more. DaisyDisk is compatible with this feature, meaning if you purchase DaisyDisk via Family Sharing, other members of your family can also use it without any additional cost.
Managing Multiple Disks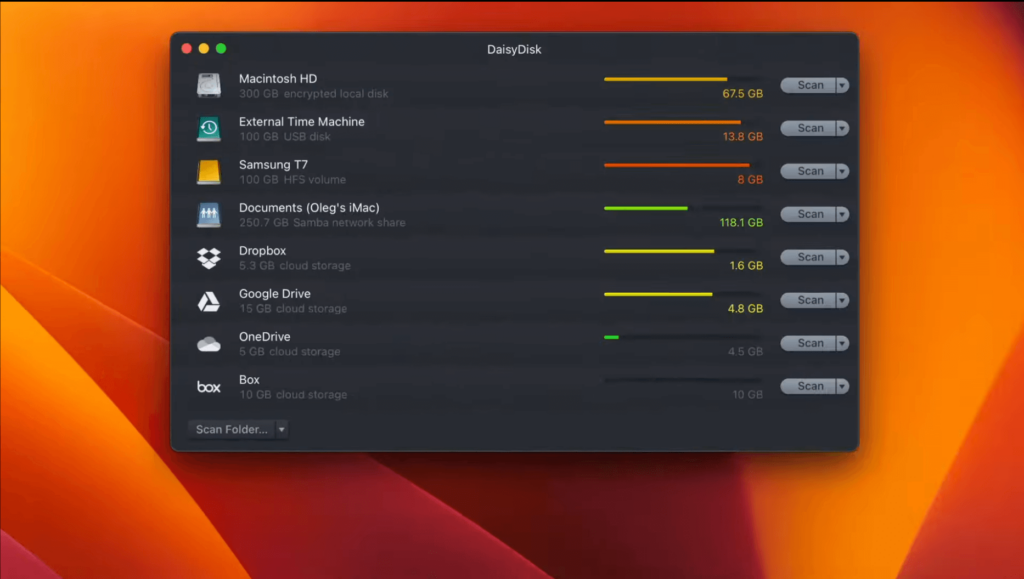 Another fantastic feature is DaisyDisk's ability to handle multiple disks. Whether it's your primary Macintosh HD, a Thunderbolt disk, a flash drive, or network storage – DaisyDisk can manage it all. It gives you the flexibility to connect and optimize multiple storage devices simultaneously, truly amplifying its practicality in day-to-day use.
Cloud Storage Compatibility
Cloud accounts like Dropbox, Google Drive, and Microsoft OneDrive can be interfaced with and scanned just like local disks. Linking a cloud account is straightforward: simply select the desired cloud service from the dropdown menu and it will guide you to their site to authorize DaisyDisk's access to your files.
My Experience with DaisyDisk So Far…
From the moment I embarked on my DaisyDisk journey, the experience was nothing short of seamless. The installation process was a breeze – a quick download from their website or the Mac App Store had me up and running in no time. The simplicity of this initial setup ensured that DaisyDisk was within the grasp of even the least tech-savvy among us.
Once installed, I was greeted with DaisyDisk's crisp, intuitive interface. The dashboard, with its straight-to-the-point layout, immediately made me feel at ease. And the sunburst map – their unique visual take on files and folders – was remarkably intuitive. I found there was hardly a learning curve to overcome, and within minutes, I was deeply immersed in managing my disk space.
When I put DaisyDisk to the test, its performance didn't falter. The advanced scanning algorithm churned out a comprehensive overview of my disk space swiftly and efficiently, even when handling large volumes of data. And the disk cleaning process? Fast, effective, and satisfying. I was able to free up substantial disk space within minutes.
One factor I found particularly commendable was how lightweight DaisyDisk felt on my system. It operated discreetly in the background, conducting scans and deletions without causing any noticeable system slowdowns or interruptions. This subtle operation, coupled with its efficient performance, certainly placed DaisyDisk in a league of its own.
Pricing of DaisyDisk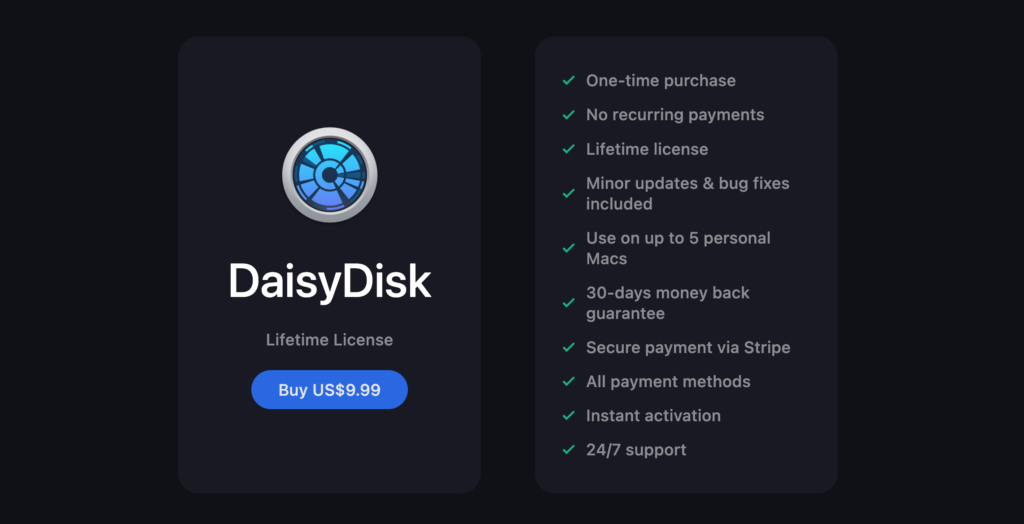 Opting for DaisyDisk means choosing a one-time payment plan over a recurring subscription, making it a savvy, long-term investment at just $9.99. This single license, which accommodates personal usage across multiple Macs, provides unbeatable value considering the comprehensive functionality of the software.
If you're on the fence about committing, there's a free trial you can take for a spin. Do note, however, that the trial version doesn't offer the full range of functionalities that the paid version does. It's a perfect fit for those looking to take the software for a test drive before committing financially.
When put head-to-head with other similar software in the market, DaisyDisk's price tag comes across as reasonable, if not a steal, particularly given its extensive features and user-friendly interface.
Like any software, DaisyDisk has its strengths and weaknesses.
Pros:
User-friendly Interface: The visual map makes understanding disk usage easy and enjoyable.
Efficient Disk Scanning: It quickly provides an accurate, in-depth view of your disk space.
Seamless Disk Cleaning: Deleting files is straightforward and safe.
Broad Compatibility: It works across all Mac OS versions.
Value for Money: Considering its features and performance, it is competitively priced.
Cons:
Limited Functionality: Unlike comprehensive system utilities, it focuses only on disk space management.
Free version Limitations: The free version lacks some major features of the full version.
Comparison with Other Disk Management Software
Pitted against comparable software like CleanMyMac X, Disk Inventory X, or Space Gremlin, DaisyDisk emerges as a leader thanks to its stunning user interface and speedy performance. What truly sets DaisyDisk apart is its intuitive, graphical representation of data, which is far from ordinary. However, it's worth noting that some alternatives might offer extra features that DaisyDisk doesn't currently include, such as the ability to detect duplicate files or conduct system health checks.
DaisyDisk Customer Support
In my interactions, I've found the DaisyDisk team to provide stellar customer support. They are quick to respond and always willing to lend a hand, ensuring that any questions or concerns are promptly addressed. To add to this, the DaisyDisk website boasts a comprehensive FAQ section and informative guides that help users find their way around the software with ease. It's evident that the DaisyDisk team holds user satisfaction in high regard.
Conclusion: Is it really worth it?
To conclude, I can confidently say that DaisyDisk stands atop the disk analyzers available for Mac. It turns what could be a dull, monotonous task into something genuinely engaging. The interactivity, the bright, appealing colors, and the simplicity of its drag-and-drop functionality make it tough to find fault.
Perhaps its most significant limitation is its exclusivity to Mac users – oh, and the fact it can't help with my storage closets. But in all seriousness, DaisyDisk is definitely worth the one-time payment, in my view. It fulfills exactly what it advertises, and its refined design speaks volumes about the thoughtful craftsmanship behind it.
Not to mention, it's backed by an active development team tirelessly working on enhancements and keeping the app up-to-date. They even provide round-the-clock email support. Based on my experience, DaisyDisk is an exceptionally solid choice if you're looking to clean up your disk space.
We would love to hear about your experiences with DaisyDisk or similar software. Please feel free to share your thoughts, experiences, and suggestions in the comments section below. Your input can help us and other readers make more informed decisions about the tools we use to navigate our digital lives.