MacBooster 8 Review
MacBooster 8 proves to be a valuable software with its user-friendly interface, comprehensive system scans, and efficient cleaning capabilities. While the pricing options offer flexibility, it's important to consider the limitations of the lite license and varying customer support levels. Overall, MacBooster 8 is a reliable choice for optimizing your Mac's performance and ensuring its longevity, backed by a 60-day money-back guarantee.
User Ratings (

2

Votes)

6.5
Cyberlab reviews products based solely on our testing criteria and not by payments from vendors. We don't accept paid reviews, paid articles or payment for higher placement. If you buy through our links we may earn a commission which helps support our work. Review Ethics
Every macOS user understands the importance of maintaining their device's optimal performance. Over time, our beloved Apple machines can become sluggish due to unnecessary files and potential malware. This is where system optimization software comes in, promising to clean and boost the performance of your Mac. One such tool that has been gaining attention is MacBooster 8.
This comprehensive software promises to declutter your device and ensure smooth operation, thereby enhancing your overall user experience. But how much of this is true? Does it deliver as promised? This review will attempt to answer these questions and more.
MacBooster 8 Review 2023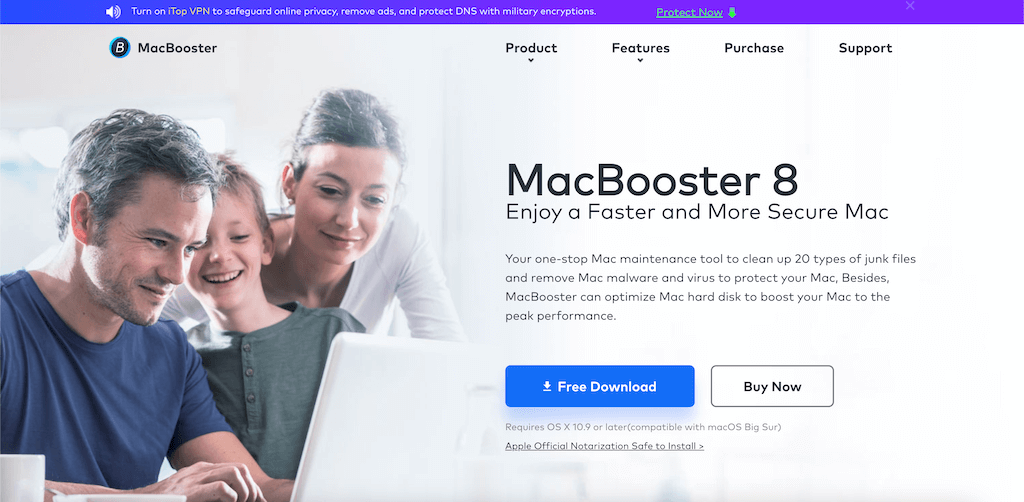 MacBooster 8, developed by IObit, is a system utility tool designed specifically for macOS. This software provides a suite of tools meant to clean up and optimize your Mac. It offers features such as junk file cleaning, system optimization, malware removal, and performance enhancement.
The idea behind MacBooster 8 is to provide a one-stop solution for many common issues that can slow down and clutter your Mac. From unnecessary files left by uninstalled applications to potential security threats, MacBooster 8 claims to handle it all.
How does MacBooster 8 Works?
MacBooster 8 works by scanning your system for various types of 'junk'. This includes things like old and unused files, duplicate files, cache files, and unnecessary backups. Once the scanning process is complete, it provides a detailed report of what's consuming space and potentially slowing down your machine. You can then choose to clean up these areas and reclaim lost storage space.
Another critical function of MacBooster 8 is security. The software checks for malware, virus threats, and other potential security risks, providing solutions if any are found.
Behind the Screens: My Hands-On Experience with MacBooster 8
Below is my personal experience with Iobit's MacBooster software:
Initial Impressions & Features Analysis
My initial setup and installation of MacBooster 8 was a breeze. The software is straightforward to install, and the user interface is clean and intuitive, making navigation easy even for novice users. It was impressive to see the software's range of features laid out in a user-friendly manner.
Now lets delve into the features of MacBooster 8.
Clearing Out System Junk
The System Junk scan found a huge amount of unnecessary files on my Mac, about 12.4GB. When I looked more closely, I found that a big part of this – around 7.2GB – were 'Mac Software Installer' files. Recognizing the potential for freeing up valuable storage space, I eagerly removed these files, witnessing an immediate improvement in my Mac's performance.
Startup Optimization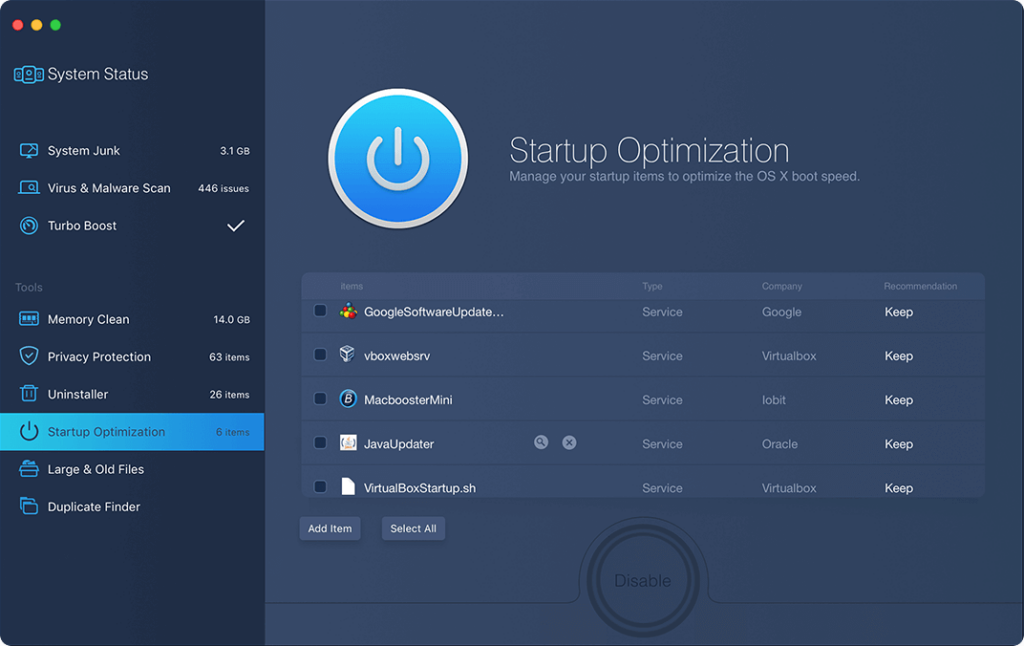 Scanning for startup optimizations identified 12 areas for potential improvement. However, most of these applications were ones that I actively use, such as Skype and WindScribe (VPN) that I'd prefer them to launch on startup.
Large & Old Files
The Large and Old Files scan, a particularly thorough feature of MacBooster 8, pointed out a staggering 115.6GB worth of content. It's important to remember that these scans often overestimate what should be deleted since the files flagged are not necessarily unnecessary or cache files. But it can be a useful tool for identifying large files that you may not need anymore, helping to free up precious disk space.
Photo Sweeper
As for Photo Sweeper, it managed to identify 120 instances of duplicate or near-duplicate images. While it does leave room for potential accidental deletion, it's a great feature for those willing to invest a bit of time into organizing their photo library and maximizing their storage efficiency
Prioritizing Privacy Protection
Running the privacy protection scan brought up an eye-opening number of 4,200 potential privacy concerns. Chrome seemed to be the prime culprit here, with 3,500 items linked to it, mostly cookies which didn't particularly alarm me. The other notable contributor was App Traces with 690 items.
Duplicate Finder
The Duplicate Finder feature unearthed 5.1GB of duplicate files on my MacBook Pro. Most of these duplicates were .DMG install files, random RAR archives, and a scattering of media files.
MacBooster App Uninstaller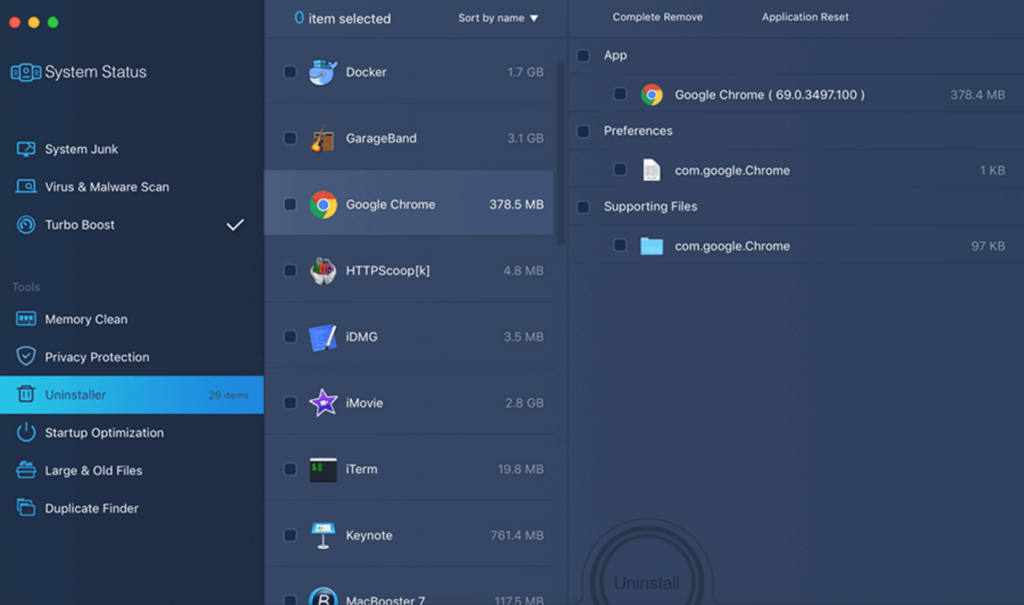 MacBooster 8's Uninstaller feature offers handy filters for removing unneeded apps, enhancing the organization of your Mac. While it lacks automated updates like CleanMyMac X's Updater tool, MacBooster still provides efficient app management.
Efficiency in Cleaning and Optimization
The real test of MacBooster 8, however, lies in its performance. I ran several tests to assess its cleaning and optimization capabilities. The software was quick to scan my Mac and presented a comprehensive breakdown of potential issues, from junk files to malware threats.
I must say that MacBooster 8 performed really well in its cleaning capabilities. It was able to identify a substantial amount of redundant files that I wasn't aware of, and removing these files had a noticeable effect on my system's performance. The optimization features also seemed to work well, resulting in faster startup times and smoother operation.
Price Analysis: Does MacBooster 8 Offer Good Value for Money?
The software provides a free trial version that allows you to scan for system junk and perform malware scans. However, to unlock the full potential and access all features, a license purchase is required.
MacBooster 8 offers three pricing tiers with varying benefits:
Standard License (1 Mac): Priced at $29.95/year, this option grants access to MacBooster 8 for a single Mac.
Premium License (3 Macs with priority support): At $49.95/year, the premium license expands usage to three Macs and includes priority customer support.
Lite License (5 Macs without 24/7 support): For a fee of $89.95/year, the lite license provides access to MacBooster 8 on five Macs. However, it lacks extensive support options and future version upgrades.
A good thing is that MacBooster offers a 60-day money-back guarantee, reflecting their commitment to customer satisfaction. It's crucial to evaluate your needs and usage requirements to choose the most suitable MacBooster 8 license, considering the pricing options and benefits provided.
Is MacBooster legit?
As mentioned before, MacBooster 8 is developed and marketed by IObit, a company that has been around since 2004 and is known for creating PC and Mac utility software. The software has been endorsed by reputed technology review sites and has several positive user reviews, adding to its legitimacy.
However, as with any software that promises to 'clean' and 'optimize' your system, it's important to approach with some degree of skepticism and do your own due diligence.
Safety of Use
In terms of safety, MacBooster 8 doesn't appear to be a risk. It doesn't contain malicious components, and it doesn't mess with system files that could potentially harm your Mac if deleted or altered.
However, the software does require elevated permissions to run some of its functions, like any system optimization tool. These permissions don't mean it's unsafe, but users should always be aware of what they're allowing the software to do.
It's also worth noting that MacBooster 8 has a clear privacy policy that outlines how they collect and use data, which is always a good sign when it comes to software safety.
Comparison: MacBooster 8 vs CleanMyMac X vs DaisyDisk
Comparing Features
Each of these three software has its own unique selling points. While MacBooster 8 focuses on system cleanup and optimization, CleanMyMac X shines in its interface and simplicity, and DaisyDisk offers an excellent visualization of disk usage.
MacBooster 8 stands out with its comprehensive feature set, including in-depth system cleanup, optimization, malware removal, and duplicate finder.
Comparing Performance
In terms of performance, MacBooster 8 held its own. Its scanning and cleaning processes were quite promising. The software was also efficient at boosting system performance.
Value for Money
In terms of cost, DaisyDisk is the cheapest, but quite good if we look at the value for money. CleanMyMac X is priced similarly to MacBooster 8, but MacBooster's features seem to be more extensive or parallel to CleanMyMac X. Thus, in terms of value for money, both MacBooster 8 and CleanMyMac X appears to have an edge, especially for users looking for comprehensive cleanup and optimization features.
Conclusion: Should You Consider Buying MacBooster 8?
After spending considerable time exploring and testing MacBooster 8, my verdict is that it's a solid tool for maintaining the health and performance of your Mac. Its comprehensive feature set, coupled with its effective cleaning and optimization capabilities, make it a worthy consideration for any Mac user.
For novice users, the ease of use and intuitive interface of MacBooster 8 make it a great tool to start with. Power users might appreciate the in-depth cleanup and optimization features. However, if cost is a significant concern, you might want to explore some other clean up tools for MacBook.
Remember, the best way to use MacBooster 8 or any system optimization tool is in conjunction with good computing practices like regular system updates, sensible downloading, and an awareness of potential security threats.