App Cleaner & Uninstaller Review
App Cleaner & Uninstaller offers a convenient solution for managing applications on your Mac. Its promise of thorough removal and elimination of associated files is commendable. However, it is important to note that there are other app uninstallers available in the market that offer similar functionality. While App Cleaner & Uninstaller performs well in its core functions, it lacks standout features that set it apart from its competitors. Depending on your specific needs, exploring alternative options may be worth considering for a more comprehensive software management experience.
User Ratings (

1

Votes)

9.9
Cyberlab reviews products based solely on our testing criteria and not by payments from vendors. We don't accept paid reviews, paid articles or payment for higher placement. If you buy through our links we may earn a commission which helps support our work. Review Ethics
In the fast-paced digital era we live in, our devices become repositories for countless applications. As time goes on, these apps can accumulate, cluttering our storage space, diminishing performance, and leaving behind remnants of residual files. This calls for a reliable software management solution that can streamline the process and alleviate these concerns.
As a tech reviewer, I understand the value of efficient and user-friendly applications, which is where App Cleaner & Uninstaller comes into play. Its primary objective is to simplify the removal of unnecessary applications while ensuring the thorough and effective elimination of all associated files.
In this comprehensive article, we will delve into the features, safety measures, and distinctive qualities of this application in comparison to other app uninstallers and will check its capabilities and determine its worthiness in the realm of software management.
Table of Contents
What Makes App Cleaner & Uninstaller Standout in the Market?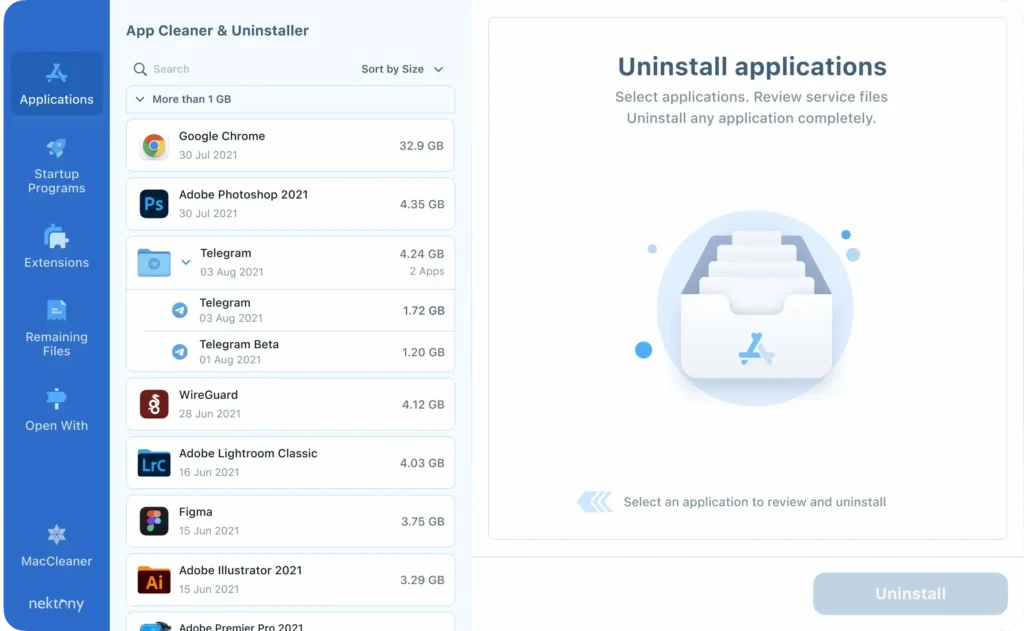 App Cleaner & Uninstaller, developed by Nektony, is a remarkable software utility tool that offers a comprehensive approach to managing applications on your Mac. It goes beyond the standard uninstallation process by thoroughly eliminating residual files and folders left behind, preventing potential conflicts and freeing up precious disk space. Its user-friendly interface sets this software apart, making it accessible to technical and non-technical users.
It takes a detailed approach to file management, providing clear and informative organization of associated files. It groups files by application and sorts them by type, allowing users to identify and understand where disk space is occupied quickly. This unique feature enhances users' knowledge of their computer's file structure while utilizing the app.
Nektony offers flexibility in its functionality. Unlike other uninstaller tools that often require the complete removal of applications and their associated files, Nektony provides a checkbox system and reset feature. This allows users to selectively remove specific files or perform maintenance tasks, making it a handy tool for regular cleanups between major disk cleanouts.
If you're seeking a reliable tool to maintain a clean and efficient system, App Cleaner & Uninstaller is a must-have utility.
Nektony App Cleaner & Uninstaller Features
This App Cleaner & Uninstaller is a powerful software that helps you clean up your Mac's hard disk with ease. Here are the key features of the App.
Applications: The Applications feature in Nektony App Cleaner works similarly to Mackeeper's Smart Uninstaller app. It provides a list of the applications installed on the Mac, allowing you to select and remove them. You can easily view support files, login items, caches, plugins, preferences, library files and crash reports. Whether you want to delete apps individually or in batches, the App Cleaner efficiently removes the main app and any associated files. This prevents unnecessary files from cluttering your Mac.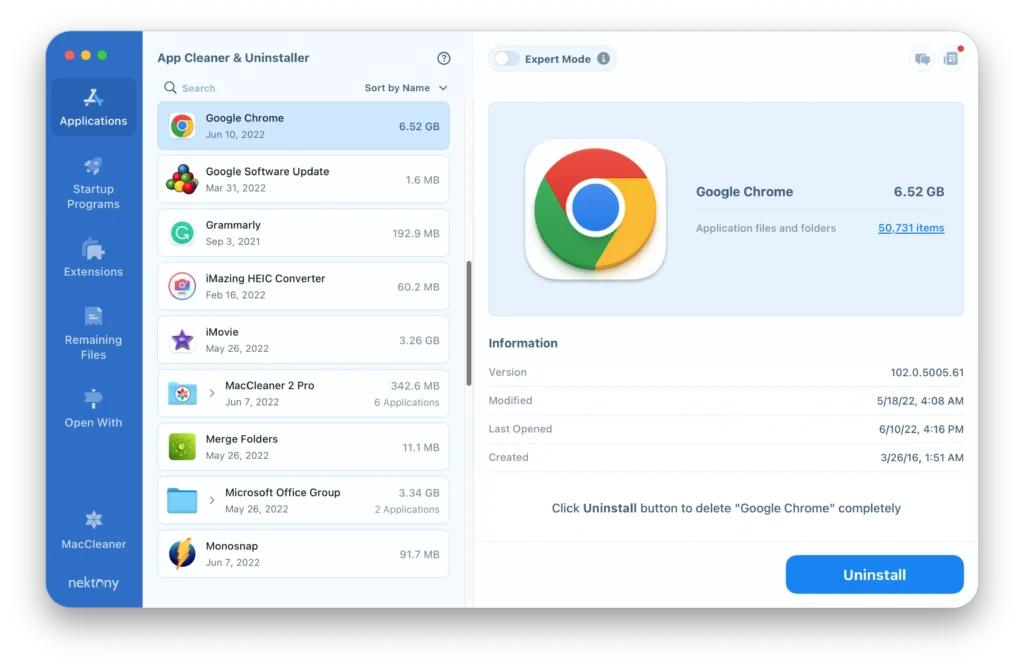 You can enable the Expert Mode by sliding the toggle on the top for more advanced control. In Expert Mode, you get a comprehensive list of what will be deleted. You can also specify which files should or shouldn't be deleted. This handy feature sets App Cleaner & Uninstaller apart from other Mac cleaning tools, although it is also available in MacKeeper's cleaning tool.
Scan: This feature thoroughly examines your Mac's hard disk, giving you a clear overview of all the applications, extensions, and leftover files taking up space. It quickly shows you what's hogging your storage.
Extensions: The term "Extensions" might seem misleading, but Nektony App Cleaner and Uninstaller offer more than removing extensions or plugins from browsers and applications. It provides additional features like removing installation files, preference panes, screensavers, and widgets. It resembles MacKeeper's Smart Uninstaller feature, which also assists in removing widgets, extensions, apps, and more.
Remaining Files: After uninstalling an app from the Mac, files often remain scattered beyond the Applications folder. The Remaining Files feature in App Cleaner & Uninstaller presents you with a list of lingering files, allowing you to quickly eliminate them from the system. This feature proved highly effective in our testing, successfully identifying and removing 200 MB of remaining files with just a single click.
Drag and Drop: If you're unsure about a file or application, drag it into the App Cleaner & Uninstaller window. This gives you a quick overview of the associated files and their impact on your hard disk, helping you decide whether to keep or remove them.
Open With: Open With is a convenient feature the App Cleaner & Uninstaller offers, allowing you to manage your file associations on the Mac. This feature lets you specify which apps should open particular file types. You can set PDF image files to open with Chrome instead of Preview so they automatically launch in Google Chrome when double-clicked. Typically, you would have to right-click a file and choose "Open With" or modify the default file association through the "Get Info" option.
The essential advantage of this feature is that it provides a centralized view of all the file associations. This makes it much simpler to manage and modify them as needed. Unlike MacKeeper, this app offers this handy functionality, making it a valuable tool for users seeking a streamlined approach to handling file associations.
Deletion: This is another feature of App Cleaner & Uninstaller. You can select specific files, folders, or groups for deletion using the checkboxes provided. As you select, the software calculates the total size of the files you've chosen. When ready, click the "Remove Service Files" button to delete them permanently.
Startup Programs: Startup Programs is a helpful feature in the App Cleaner & Uninstaller that allows you to manage the applications that automatically launch when you start your Mac. It provides a comprehensive list of these startup apps and lets you choose whether to allow or prevent them from starting alongside your Mac. While macOS does offer similar functionality through the Login Items section in System Preferences, it has been limited in the past, only showing a few login items and not including background processes. Although macOS Ventura has improved this, App Cleaner & Uninstaller offers some advantages.
With Startup Programs, valuable insights into login items by providing information about whether they are system daemons or other launch agents. It also allows you to differentiate between active or disabled items easily. This functionality is similar to the Login Items feature found in MacKeeper.
Is App Cleaner & Uninstaller Safe to Use?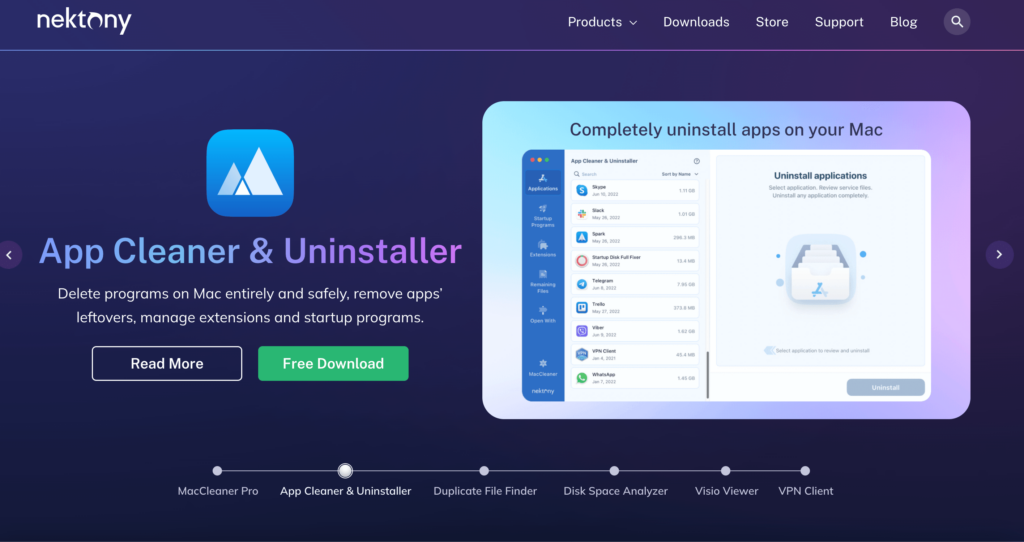 Nektony, the company behind App Cleaner & Uninstaller, has established itself as a reputable company with a strong track record of positive ratings and independent certifications. This history of reliability and customer satisfaction builds confidence in the safety and trustworthiness of their products.
Having tested App Cleaner & Uninstaller, I encountered no significant safety issues or concerns. However, it's important to note that whenever you use any application that removes data, there is always a small risk of unintended consequences. For instance, you can accidentally delete files you later realize you want to keep. To mitigate this risk, it is crucial to carefully check the scan results before proceeding with any deletions.
App Cleaner and Uninstaller Pros & Cons
Pros:
User-friendly interface
thorough uninstallation
Improves performance
Provides application information.
Cons:
Limited functionality
lacks advanced features
may not detect all leftover files, no antivirus protection.
App Cleaner & Uninstaller Pricing: Is it Worth Your Money?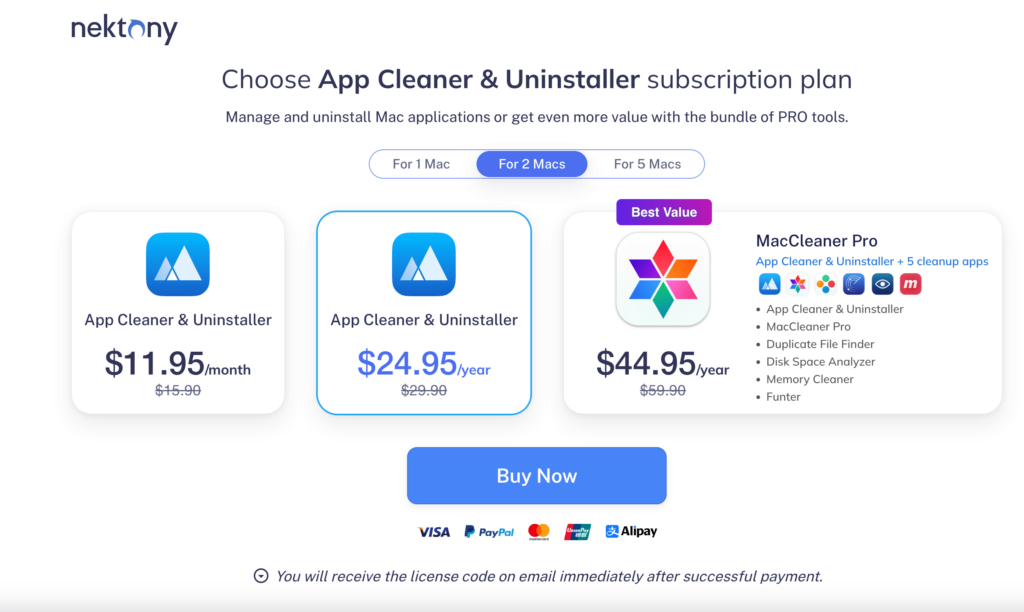 App Cleaner & Uninstaller is a visually appealing, efficient, and user-friendly app. However, when evaluating its worth, it's essential to consider its pricing.
Unlike most Mac utility apps that offer a single subscription price for comprehensive features, Nektony sells App Cleaner & Uninstaller separately or as a bundle. It offers different license options for 1, 2, or 5 Macs, with one Mac can license priced at $7.95 per month and $14.95 per year. Whether this App Cleaner & Uninstaller is worth it depends on your needs, budget, and preferences.
Final Verdict
When assessing Nektony App Cleaner & Uninstaller, it demonstrates proficiency in its core functions, although similar functionality can be found in free alternatives like CCleaner for Mac. While all-in-one solutions such as CleanMyMac X provide a wider range of features and better value, Nektony's separate app approach may feel disjointed. It's important to note that Nektony offers a separate VPN product and its app is safe, flexible, and suitable for users of all levels.
In conclusion, Nektony App Cleaner & Uninstaller is a reliable tool that delivers a safe and flexible experience. It caters to both seasoned users and beginners, making it a noteworthy choice among uninstaller apps in a competitive market. However, it would be beneficial if the app offered suggestions on prioritizing deletions. If you're seeking a top-notch uninstaller that also identifies system junk and malware, alternatives like DaisyDisk or MacBooster provide robust features and enhanced performance optimization for your Mac.